Hidilyn Diaz, Nesthy Petecio, Carlo Paalam, and Eumir Marcial recently bring home medals. Proud is an understatement of what we feel! The Philippines will finish with multiple medalists in the Olympics for the first time since the Los Angeles Games in 1932. Three Filipinos landed on the podium for a medal in the quadrennial meet in the United States in 1932.
Pinoy Olympians make historic wins in Tokyo 2020
Hidilyn Diaz grabs GOLD in Weightlifting
Philippines' drought breaker. Hidilyn showed off the strength of a Filipina. In 55 kilograms women's weightlifting category, she managed to lift a total of 224 kg, an Olympic record. Moreover, in clean and jerk, she lifted 127 kg which is also an Olympic record. She's the first-ever Filipino to win a gold medal in the Olympics.
Nesthy Petacio won SILVER on women's featherweight
Additionally, the 29-year-old Davao del Sur boxer Nesthy Petacio won silver in Tokyo 2020. She put an end to the 89-year wait for the Philippines' Olympians to win multiple medals in Olympics. Furthermore, Petacio shared that Tokyo 2020 was her first Olympics.
Eumir Marcial gets BRONZE on men's middleweight
Olympic boxer Eumir Marcial won a bronze medal for the Philippines, bringing the country's total to three medals at the Tokyo 2020. His father began training him when he was seven years old, and he began boxing in 2008. Moving forward, Eumir Marcial only became a professional boxer in December 2020.
Carlo Paalam bags SILVER medal on men's flyweight
No goodbyes for Carlo Paalam. He managed to score the Philippines' fourth medal in Tokyo 2020. He started boxing in 2009. After watching him in a backyard battle, one of his neighbors urged him to try boxing. He eventually competed in a local 'Boxing in the Park' event in Cagayan de Oro, Philippines, where organizers recognized his potential.
With four medals this season, surely this will go down in history.
This will be written and printed in books. Each athlete has a story to tell. Tokyo 2020 also somehow unites the Filipinos. They support the athletes in whatever they can. To all the Filipino Olympians, congratulations!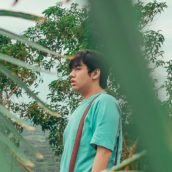 Ivan Royce Pedron
Ivan Royce is a journalism student from Cavite State University. Aside from being a writer, he is also a video content creator, photographer, and graphic designer. He likes to drink…. Coffee, tea, or maybe alcohol. Ask him for recommendations!