It's almost a month after Apple unveiled the iPhone 12 family and this means one thing for the avid followers of the brand. Finally, time for an upgrade. It's an unspoken rule that older iPhone models got cheaper because of the release. However, not everyone can't afford to splurge on a new device right? Here are simple hacks to make you enjoy your iPhone's features!
Tap the back of your iPhone to do certain actions
According to a source, Apple rolled out a new iOS 14 update that enables you to do some tasks faster and easier. For example, did you know that your phone can do a lot of things with just a tap? Note that this feature will only work if you are using the newer iPhone models, namely iPhone 8 and above that.
Aside from the addition of widgets, Apple added the Back Tap capability. Basically, this one lets users take screenshots or launch applications by just tapping the back of their device. Other actions include the following: switching between apps, muting your phone, increasing or decreasing the volume, and others. You also have the option to assign two commands: one through double-tapping and another through triple tapping.
To activate the feature, go to the Accessibility option in Settings and click Touch.
After that, find the Back [Tap] option, then make sure it's on.
This is where you can now assign a particular action for either Double Tap or Triple Tap. Make sure to update your gadget to iOS 14 to be able to do this.
If you find that your Back Tap commands aren't working, even after you set them up, check your phone case. Some phone cases, especially if they're thick, will block your iPhone from picking up your taps.
Are you excited to try this feature? Let us know what you think!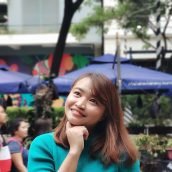 Queenie Lastra
Queenie Lasta got her bachelor's degree in Communications Research from UP Diliman. In her free time, she likes to read thriller novels, psychology books, and mangas. She believes in the importance of grit, hard work, and passion to become a great writer in the future.