In general, we Filipinos have become official suckers for romantic comedies with a mix of fantasy. That became the reason behind people going crazy about the new series, My Roommate is a Gumiho. The story revolved around the love story of a nine-tailed fox who wants to become a human, Shin Woo-yeo.
A romantic comedy between a college student and a Gumiho
My Roommate is a Gumiho is a series adapted from an iQiyi's webtoon. Its premiere episode got the fourth-highest rating in Wednesday and Thursday drama history in tvN. The second episode posted a high average rating of 4.3 percent. In this romantic comedy, Lee Hyeri plays a 22-year-old college student character, Lee Dam. Due to an unexpected mishap, she also winds up moving in together with a 999-year-old male Gumiho. During their cohabitation period, she also must abide by Gumiho's three rules.
The first episode shows how Shin Woo-yeo or the Gumiho gained humanity by kissing different ladies. Since he's already 999 years old, he appeared in different eras in different outfits. Unfortunately, Lee Dam swallowed the Gumiho's fox beads. Thinking that there's no other way, Shin suggested living together. He even let Lee saw his true self just to convince her about the proposal.
Also, Lee acts crazy when drunk. Because of that, Shin bans Lee from interacting with men born in Years of Tiger, drinking, or eating chicken. The 22 yr-old girl felt hopeless, being deprived of the things she enjoys. The actress showed full commitment to make the character look funny. To portray the character realistically, Lee Hye-ri gets drunk, gets on her knees, and rolls on the ground.
Close friendship among the cast and crew of My Roommate Is a Gumiho
IQiyi International had an exclusive interview with the four leading actors of this series. Meanwhile, Jang Ki-yong revealed that Lee went teary-eyed after they finished the last scene. Four leading actors, Jang Ki-yong, Lee Hye-ri, Kang Han-na, and Kim Do-wan, have recorded exclusive interviews for iQiyi International. Lee Hye-ri, then, describes Jang as a really adorable person. Jang was surprised by that description since he never thought he would come off as adorable.
On the other hand, Kim praised Lee because of the way she treats the crew. She was generous with them and bought gifts for them. Lee buys them barbeque and thermal shirts as a way of saying thanks for their hard work. For more interviews, visit iQiyi International.
This is quite the perfect show to binge with your base or loved ones! You can watch the series by downloading the app on App Store or Google Play Store.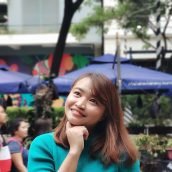 Queenie Lastra
Queenie Lasta got her bachelor's degree in Communications Research from UP Diliman. In her free time, she likes to read thriller novels, psychology books, and mangas. She believes in the importance of grit, hard work, and passion to become a great writer in the future.