In coordination with the Philippine LGBT Chamber of Commerce, Google's Pride Conversations: Championing LGBTQ+ MSMEs event gathered entrepreneurs from the LGBTQ+ community to promote inclusive economic recovery. It also serves to encourage allyship from the broader public. To promote inclusive economic recovery and help digitize LGBTQ+ MSMEs, Google hosted the social media event. You can watch the forum on Google Philippines' YouTube channel to learn about the inspiring stories of the featured businesses below. Of course, from food to creatives, you can support this Pride month and beyond.
Google promotes inspiring LGBTQ+ businesses you can support
Joining the discussion from various industries, here are the LGBTQ+ businesses you should support:
The Fairygodbarbie House of Beauty
As a proud trans woman, Rui Mariano created Fairygodbarbie in hopes to be of service to her fellow trans women during their transformation journey. She also draws inspiration from her trans woman aunt who raised her and loved to dress her up as a child. She carries the thought of having a fairy godmother and often being compared to Barbie. Rui also puts up a one-stop beauty  shop for her trans sisters and women alike, offering nails, eyelashes, spa, and facial services among others.
FFTG Cafe (Food for the Gays)
In April 2020, Nariese Giangan and her girlfriend started selling pastries online. Then, this became so successful that they eventually opened the Food for the Gays cafe in Quezon City. Opening the cafe became a huge risk as they used the last of their savings to put up the business. But, it all paid off after receiving overwhelming support from friends, especially the LGBTQ+ community. FFTG Cafe, then, has become not only a place for good food like their Rainbow Grilled Cheesus Sandwich. But, it is also a safe place for the LGBTQ+ community and its allies.
Nirvana Hostel and Restaurant Siargao
What started out as a vacation led Abby Biyo and her girlfriend to opening the first Kapampangan restaurant and hostel in Siargao. Even when the lockdowns were implemented after finally finishing the construction of Nirvana Hostel and Restaurant, Abby's resiliency helped their business thrive. In fact, they will be opening their second branch soon. Besides proudly raising the flag of the LGBTQ+ community on the island, Nirvana also helps provide job opportunities for the community especially during the pandemic.
Vitalstrats Creative Solutions
As a creative practitioner, Amrei Dizon always makes it a point to proudly declare she's part of the LGBTQ+ community. That said, she ensures that the outputs of her 17-year-old creative agency Vitalstrats Creative Solutions are consciously inclusive, and that her team remains open in discussing LGBTQIA+ issues with each other in order to create more role models for the community. They faced liquidity problems when the pandemic hit. This, then, pivoted to the demand for digital services alongside the team's willingness to adapt. And, stay creative helped them get through and recover.
Cooltura Hub
Jeoff Solas is a PR and marketing professional. The diverse business interests led to launching several brands like the Cooltura Hub in Bulacan. Missing going to Manila-based barber shops that offered refreshments for their patrons, Cooltura evolved into offering beverages from BreaTea for their customers. It became a digital savvy that worked in the favor of his business. Jeoff was challenged by having to stay put and limiting the reach of his business within their area. But, ultimately, this gave him the chance to get to know his neighborhood better. And, even provide employment opportunities.
The Food Episode
Sed Aguil started out as an advertising practitioner. But ended up following his heart and pursuing his love for cooking, a talent he developed during the strict lockdowns last year. Then, this led to the creation of The Food Episode. It became a home-based food delivery service featuring his best recipes. Like, Cajun Butter Steak and Sriracha Honey Chicken. Being a one-man team, Sed would sometimes find himself exhausted from developing recipes. He also manages his social content, and being in the kitchen. But, everything becomes worth it when his customers compliment his dishes.
Entrepreneurs looking to grow their businesses digitally can also learn about helpful, free tools like Google My Business and the Primer app discussed in the session. Google My Business allows your store to be seen on Google Maps and Search. While the Primer app provides short marketing lessons for free. For more information, watch the step-by-step discussion from the event on Google Philippines' YouTube channel or Facebook page.
This Pride month and beyond, let's be an ally. Promote and support LGBTQ+ businesses to help them grow.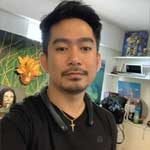 Josh Austria
Aside from being a businessman, Josh Austria has been working in PR and media industry for more more than a decade. From his years of experience as the Marketing and Advertising Head of Village Pipol Magazine, he has built strong relationships with creative people, brands, and organizations.