Tickle dad's fancy with a head-turner ride to match his adventurous spirit. Dads can be picky at times, especially with gifts that he feels will steal the show. They usually don't ask for much, but can be quite discerning about what they receive. Are you looking for something for the man in your life? Or are you currently on the lookout for a ride to match your zest for adventure? Look no further than The All-New CB150X.
This is the latest adventure from Honda Philippines, Inc., (HPI) the No.1 motorcycle manufacturer in the country. It is considered the ultimate dad bike. Plus, it's perfect for thrilling adventures and rewarding weekend explorations.
Go the Extra Mile with The All-New CB150X
Here's a breakdown of what makes this muscular machine worth considering for gearheads this Father's Day. Re commended by motorcycle enthusiasts and The All-New CB150X owner Harjinder Nijran.
A macho ride that ages well
Despite the occasional fashion blunder, every father wants to look good on the road. They dream of a ride that makes heads turn and their peers nod in respect. Drawing on the imposing adventure styling from the CB500X, The All-New CB150X gets the job done.
This new ride features muscular fairing, an adventure-style under cowl. It also has a sturdy-looking bash plate, a tall windscreen, and a tapered handlebar and cockpit design. According to motorcycle enthusiast and businessman Harjinder Nijran, even his young son is a fan of the macho design.
Nijran says,
"Every day when I get home from work, my son would always tell me. 'Papa, I want a ride on the new bike.' Those words make me feel very happy and a proud dad. Because I can see my son is a bike lover as well. I can visualize that someday, we will ride together, and that will be a precious moment!"
Combining comfort and performance
The All-New CB150X has a seat height of 817 mm and ground clearance of 181 mm. The measurements are just right for the average Filipino rider, even for dads.
Nijran says, who often sets out for adventures to destress, chasing sights of nature and breathing in the fresh air:
"I like the upright position of the handlebar to give comfort to my arms during the long rides I usually do."
In terms of performance, The All-New CB150X is equipped with a 149cc, 4-stroke,4-valve, DOHC, liquid-cooled, and PGM-FI engine. It is also capable of producing 11.5kw @ 9,000rpm, and 13.8Nm @ 7,000rpm of torque. It's an amount of power that riders have control of at all times, thanks to superior handling that also enables easy cornering and banking.
To top it off, The All-New CB150X has prime suspension (inverted front fork Showa Brand and pro-link rear) and braking (hydraulics discs' front and rear) systems as well. It makes every ride simple and truly enjoyable.
Peak fuel efficiency
Dads want to have fun without going overboard. This is an important consideration when it comes to the fuel efficiency of motorcycles. With a staggering 38km/L fuel consumption with a bigger 12L fuel tank capacity, The All-New CB150X makes for a fun yet economic ride.
Narin says:
"I use my The All-New CB150X as my everyday bike to travel around, giving me around 38 to 40 kms per liter average, good enough for city driving. Then, I also took it to the mountains of Sierra Madre, Marilaque, and Infanta, Quezon. I love the ride of The All-New CB150X: very smooth and comfortable."
Feeling inspired just yet? Go the extra mile and elevate your experience with a ride that will allow you to experience all these benefits you're looking for!
The All-New CB150X is available in Honda 3S dealerships nationwide with a suggested retail price of Php163,900. The ride comes in two colors: Valiant Red, and Matte Gunpowder Black Metallic. The latter features an emblem and matte brown-colored engine cover, handlebar, and cast wheel. These become an added boost of masculine appeal.
For more information, visit their website. Stay updated on Honda's newest products and promos by following Honda Philippines, Inc. on Facebook and Instagram. Or contact (02)-8581-6700 to 6799, and 0917-884-6632.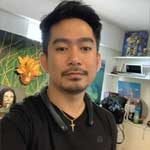 Josh Austria
Aside from being a businessman, Josh Austria has been working in PR and media industry for more more than a decade. From his years of experience as the Marketing and Advertising Head of Village Pipol Magazine, he has built strong relationships with creative people, brands, and organizations.