Vaughn Mugol, a Filipino-American nurse, amazed coaches of The Voice (US) during the competition's blind auditions.
In a video released last Friday, September 17, Mugol used "The A Team" by Ed Sheeran as his audition piece.
During his performance, he received a three-chair turn from coaches John Legend, Kelly Clarkson, and Ariana Grande.
After, Grande praised Mugol for his singing voice, saying,
"I love the little break in your voice and I love the fuller parts of your voice,"
Moreover, Mugol said how The Voice (US) is his first experience joining a singing competition.
"This is actually new to me. I'm a registered nurse, so I usually just sing to my patients,"
On the other hand, Legend expressed how it would be amazing if Mugol joined his team, saying,
"I feel like I have the right experience on this show helping artists to pick songs and helping them prepare for these moments,"
Clarkson gave props to Mugol's technique in performing, telling him,
"The precision of you like not losing breath and going off pitch, that takes a lot more technique. You're an emotional singer and that's all I am – emotion,"
Grande, who is the show's newest coach, expressed how she wanted him in her team, saying she can help him win despite having no experience as a coach.
The show has yet to reveal which coach Mugol picked. The Voice (US) is set to premiere on Monday, September 20.
Good luck on your journey, nurse Vaughn!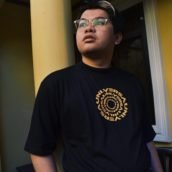 Kobe Adam Joshua Laurena
Kobe Adam Joshua Laurena is a writer who loves to tell stories from the perspectives of different people and everyday life. Apart from the pen, he loves to pick up the lipstick to transform into his frustrated drag persona: Anita Good Lovin'. He aspires to combine his love for writing and drag by creating a novel, short story, or screenplay about local drag queens in the future. He also has an obsession with sitcoms, women's pro-wrestling, and Funko Pops.