Anticipation Soars After GSMArena Features the New TECNO Mobile Camon 18 Series
With the highly-anticipated release of Camon 18, the brand new offering from premium smartphone brand TECNO Mobile, people became eager to learn more about what this device has to offer.
Interest in the new smartphone rose even higher after an extensive first look at its features as GSMArena released the details.
GSMArena prides itself as a trusted resource for mobile phone information and reviews. 
Highlighting its best features
On the day of the article's release on the site, Camon 18 immediately shot up to second place on its daily interest list.
It stays behind the Apple iPhone 13, which took the top spot. 
The article highlighted Camon 18's shake-free triple camera with 16-135mm equivalent lenses and f/1.6-3.5 apertures.
Also, it highlighted its 5x optical zoom with image stabilization that offers clear and sharp images even when zoomed in. 
Camon 18 promises to be a Movie Master, allowing users to beautifully record every wonderful moment.
The device also shows strengthened camera features, which are great to use for capturing professional selfies, and even as an all-around camera.
The tech site also touched on Camon 18's design features.
These features include squared-off edges, and a selfie cam opening that appears to be smaller than that of its predecessor, Camon 17.
The article showcased images of this much-awaited phone in light and dark blue colors.
However, no additional details were shared regarding the available colorways. 
More information on the Camon 18 is sure to be available as the release date for this smartphone approaches.
With this new smartphone, TECNO Mobile makes it possible for all Filipinos to experience technological innovations.
These innovations improve the way they work, learn, play, and live.
All these at a fraction of the price offered by other brands.
Through this latest offering, TECNO Mobile stays true to its commitment to bring innovation to global emerging markets.
It does so as the premium smartphone brand for all. 
Be sure to stay updated on all the latest promos when you like and follow TECNO Mobile Philippines on Facebook. Visit their website to learn more about your favorite TECNO Mobile smartphones and gadgets.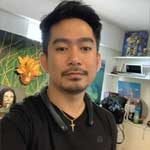 Josh Austria
Aside from being a businessman, Josh Austria has been working in PR and media industry for more more than a decade. From his years of experience as the Marketing and Advertising Head of Village Pipol Magazine, he has built strong relationships with creative people, brands, and organizations.