5 Most Inspiring COVID-19 Photos By Heather Patterson
Medical frontliners and healthcare workers certainly show bravery and selflessness in their everyday battle against COVID-19. Since last year, many of these heroes sacrificed a lot to save their patients from dying. Some of them even contracted the fatal disease and died.
5 Most Inspiring COVID-19 Photos By Heather Patterson
Words are not enough to express the heroism of the frontliners but a moving photo may do. A great example would be the works of Heather Patterson. This physician/photographer documents the authentic stories of patients and front-line workers during the pandemic. The photographs provide a visual voice for those battling this invisible enemy while highlighting the common themes of vulnerability, resilience, empathy, suffering, and collaboration.
A visual voice for the unsung modern-day heroes
In a nutshell, Heather is an emergency physician, photographer, and mom of 2 who specializes in lifestyle and medical photography. Basically, her images capture the raw emotions and realities of daily life and celebrate the unique personalities and stories of real people.
On her website, there's a tab with the title COVID. This is her current project that highlights the authentic story of patient experiences and the healthcare team collaboration in Calgary, Alberta. Her aim? Heather hopes that it generates empathy and inspires others. She wants others to see what we can accomplish when we work together for the sake of the majority. Note that the project has received full AHS and Ethics approval. Aside from that, all participants have given their consent.
There are several awe-inspiring photos in her COVID-19 portfolio. But, our team has chosen just five pictures that made a huge impact on us.
"Lead with your heart" was how she described volunteering with the No One Dies Alone program.
While at a patient's bedside, this lovely volunteer shared songs and poetry, held the patient's hand, and brushed her hair. We love how this photo shows the warmth and kindness of the volunteer, trying to comfort the patient with her best effort.
In this image, a young man in ICU was waiting with a volunteer, to speak with his wife and two young daughters for the first time after being intubated for 6 days. He is considered, in ICU, one of the lucky ones. You can really feel in the eyes of the volunteer his deep concern towards the patient longing for his family.
In this picture, the small kid with an amazingly huge smile is like a breath of fresh air for the volunteers amid the COVID-19 pandemic.
Dr. Patterson noted that they are trying to provide family-centered patient care at ACH. By looking at this photo, you know that this boy is blissfully unaware of the tragedy and pain happening at the hospital. For us, that's a very noble thing because the volunteers are trying to shield him from the trauma of this pandemic.
When a patient arrives in the ICU, the primary nurse for that patient may spend 2-3 hours in full PPE while getting the patient settled. 
Here a patient's nurse briefly stands in the doorway while an X-ray is taken. She has been in the room for 2 hours and 45 minutes. Even though she feels hot and uncomfortable wearing the protective gear, you can still sense an urgency to save someone's life.
Last but not least is the photo of a young ICU nurse who also works as a volunteer for the No One Dies Alone program.
During his break, he sat with a patient on another ward in her last hours of life. This small act of kindness shows his dedication and compassion for the patients. Those are the values that no money can buy. Despite the fact that they were not able to cure this patient, they still want her to feel loved until her last breath.
Truth be told, these pictures alone can evoke inspiration and faith that there's still good in others. People can make sacrifices for strangers they barely knew. In this world full of apathy, we do need this to remind us that what humanity truly means. And by the words of a well-known anthropologist Margaret Mead:
"Helping someone else through difficulty is where civilization starts."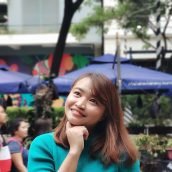 Queenie Lastra
Queenie Lasta got her bachelor's degree in Communications Research from UP Diliman. In her free time, she likes to read thriller novels, psychology books, and mangas. She believes in the importance of grit, hard work, and passion to become a great writer in the future.