Score these work-from-home must haves and more at the Logitech Brand Day Sale happening on March 15-17, 2021!
A year into the work from home shift, we now have a better idea of the struggles that this arrangement might bring. We have also become better-equipped to handle these challenges. We have learned what it takes to overcome them, both by adjusting the way we do work. Aside from that, we have also equipped ourselves with all the home office essentials we need to accomplish every task.
The best work-from-home gear should not just help you stay productive. They should be able to provide comfort and ease of use, too. Logitech offers amazing creativity and productivity essentials that cater to various work-from-home needs. Of course, this comes whether you are an entrepreneur, a business professional, or a creative.
Conquer conference calls with Logitech
Virtual meetings, conference calls and webinars play a big part of the remote workday for many individuals. Finding a quiet spot to work is challenging enough for many. This becomes even more important when you need to participate in a discussion or present at an online event.
Logitech's plug and play H340 USB Computer Headset can get you through all your meetings and webinars, while you work from home. It has noise-cancelling microphone that delivers crystal clear audio. It reduces background noise from cars, pets, kids, and any other distractions. The microphone can also be conveniently tucked away when not in use. Plus, because it is lightweight and adjustable, the headset is comfortable to use for hours at a time.
Multitask seamlessly
Working outside of the office means having to make sure that you have all your documents and materials on-hand, ready to peruse. Sometimes this may require using more than one device to accomplish the daily work tasks that you have set for yourself.
When it comes to multitasking, the M585 Multi-Device Mouse is a great choice. It is capable of navigating seamlessly on two computers, and copy-pasting data from one to the other. This feature comes in handy. Especially when transferring documents, images, and text between two computers, such as your laptop and your desktop PC. This eliminates the need to send these files to yourself via email or through cloud-based storage. It has a micro-precise scroll wheel. Aside from that, it also has two thumb buttons for easy navigation and control. Its curved design provides adequate support for long hours of work or play.
Create balance between work and play with Logitech
It is important to hustle while working from home. However, sometimes the lines between work and life can become blurred. You also need to make time to unwind and de-stress, and the right home office essentials can help you do that, too.
Set the mood for a productive work day with the Z333 Speaker System with Subwoofer. This offers bold sound and strong bass. You won't need to worry about poor audio quality while viewing or listening to media for work, or when attending virtual talks, ever again. Perfect for videos, games, and music, too, with this in your home office arsenal, you can easily go from work to play at the end of the day!
Ready for an upgrade?
With many of us working from home for the long haul, now is the best time to set up a home office that really works. If you think it's time for a home office upgrade, or simply want to see Logitech's other work from home offerings, you should check out the Logitech Brand Day Sale, happening on March 15-17, 2021 at the Logitech Official Store on Shopee. Enjoy these amazing deals at the sale:
Discounts of up to 40% on featured products
Free shipping capped at P50
Vouchers amounting to P50 for a minimum purchase of P1,500
Vouchers amounting to P150 for a minimum purchase of P2,500
To learn more, visit and follow the Logitech Official Store on Shopee or check out the Logitech website and official Facebook Page.
Logitech products are also available at partner outlets, Octagon, Silicon Valley, PC Express, Datablitz, Complink, I-Tech/Gamezone, Electroworld, Abenson, Office Warehouse, PC Hub, PC Worx, Villman, DynaQuest, Techwarez, Gameline, Thinking Tools, Gaisano Interpace, Digi-Serv Solutions, Davao FutureBright, Concept Computer, and Nutech.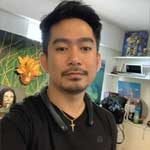 Josh Austria
Aside from being a businessman, Josh Austria has been working in PR and media industry for more more than a decade. From his years of experience as the Marketing and Advertising Head of Village Pipol Magazine, he has built strong relationships with creative people, brands, and organizations.