DOT says might have to cancel your travel plans abroad for this year
GETTY IMAGES
Most of us were dismayed by the fact that we cannot enjoy the summer vacation with all that's happening around us. Perhaps some are even hoping to reschedule their flights abroad so they won't waste the time and money for hotel reservations. But we might have to wait a bit longer according to the Department of Tourism (DOT) as international travel might not be allowed this year.
Travel and leisure under the 'new normal'
Department of Tourism (DOT) Secretary Bernadette Romulo-Puyat revealed the impact of the COVID-19 pandemic to the said sector during a virtual meeting. She first discussed that even with the government lifting ECQ, they still won't allow foreign travels."International travel might not happen this year. At this point in time, traveling (abroad) is but a dream."
This policy is effective until the discovery of a vaccine for coronavirus disease. Under this, the government will require regular sanitation and disinfection of hotels, accommodations, transport services, exhibit venues, restaurants, and spas. She added that there would be regular inspections conducted. Moreover, they will provide sanitation and disinfecting devices to tourism employees including PPEs.
For tourism-related transactions, you might want to familiarize yourself with digital and online systems. DOT is pushing towards applying for this kind of system. The online system can enable hotels for contactless check-in where guests can pick-up keycards and go-ahead to their rooms.
Who doesn't love buffet food? Say goodbye to breakfast buffets as hotels will switch to providing guests with bento boxes. Aside from that, hotel owners should expand their kitchen and have the proper spacing of tables for social distancing.
In addition to this, DOT will also limit the capacity of tourism transportation, restaurants, tourist spots, and convention facilities.
A silver lining for the tourism industry during this crisis
We might experience a hard time adjusting to this set-up but there's still good news. Puyat stated that the department is implementing the Tourism Response and Recovery Program. This will assist tourism-related businesses and their workforce gets back on their feet during the early stages of the pandemic.
They already implemented a moratorium on the collection of accreditation fees from new and renewing applicants from tourism enterprises (TEs) and tourism-related enterprises (TREs) for the year 2020. Together with the Tourism Promotions Board, they waived participation fees in international fairs and exhibitions set between now and the end of 2021.
DOT also has a PHP 43 B budget to help the affected businesses under its sector in which they will allot resources for extending loans, tourism promotion, and private sector support. They also promise to bring home stranded tourists in different places in the country due to the lockdown.
Puyat explained that there's still a chance for us to travel, but only to nearby places."For the first few months, we might be limited to creating offers for promoting places that are only a few hours' drive away from where the target consumer resides."
So you guys can still enjoy the beauty of our country with the likes of Batangas, Baguio, Camsur. Better than nothing, right?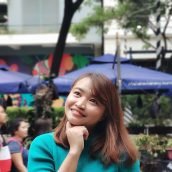 Queenie Lastra
Queenie Lasta got her bachelor's degree in Communications Research from UP Diliman. In her free time, she likes to read thriller novels, psychology books, and mangas. She believes in the importance of grit, hard work, and passion to become a great writer in the future.