Because of the restrictions regarding large gatherings, many Filipinos are having the holiday blues. We are a culture of close-knit family ties. The Christmas season is one of the occasions we celebrate that trait but we can not do that this year. Thankfully, Disney unveiled a touching Christmas ad that highlights the Pinoy culture.
Beautiful and heartfelt concept of the Disney ad
Just posted today, the three-minute animated short, featuring Mickey Mouse, tells the story of grandmother Lola, her granddaughter, and the family traditions that have connected them through the years. The storyline shows a cuddly toy of Mickey Mouse gifted to Lola when she was a child in 1940. As the years passed by, Mickey becomes a symbol of her childhood and her present-day connection to her granddaughter.
When the grandmother fears their connection may be beginning to fade, her granddaughter surprises her with a festive gesture that takes her back to her early years, before re-gifting her the toy on Christmas Day. She decorated the living room with Christmas "parols", a décor that is uniquely Filipino.
During the advertisement, you can hear the vocals of UK artist and Ivor Novello Rising Star nominee Griff. She is the one who sang the original song 'Love Is A Compass'. According to a source, Novello said that this is a charity track to support a cause.
"I was excited to get involved in Disney's Christmas campaign, in support of Make-A-Wish. The lyrics of the track and the storytelling in the advert are powerful, and important. The theme of family and loved ones are so front of mind for many of us – especially this Christmas."
The ad easily became viral because of its heartwarming message to all people, not just only for Filipinos. It shows the value of family, tradition, love, and respect. A lot of netizens are expressing their nostalgia for how they celebrate the holiday season before. Many of them are thankful for Disney for releasing this Pinoy-themed Christmas ad as it gives hope during these trying times.
What do you guys think?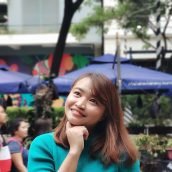 Queenie Lastra
Queenie Lasta got her bachelor's degree in Communications Research from UP Diliman. In her free time, she likes to read thriller novels, psychology books, and mangas. She believes in the importance of grit, hard work, and passion to become a great writer in the future.