TrueID Philippines opens the doors for Filipino digital content creators to enter the virtual international stage with the release of locally-produced series and shows.
Will TrueID Philippines be following the footsteps of its Thailand HQ?
After generating much buzz on recent BL series ("Boy Love") and other LGBTQ+ content, there is a rise in demand for these types of content. Considering that the platform is taking cues from Thailand–Dindo Marzan, Managing Director for True Digital Philippines, Inc. said during the GOL Summit 2020, Asia's largest LGBTQ+ filmmaking conference last November 17, that "it's a content that can be consumed by anyone, whether you're part of the LGBTQ+ community or not, and it's good content, it all boils down to the quality. Once there is a 'kilig' factor, regardless if it's boy love or even girl love, we actually can appreciate such content here in the Philippines."
True Digital Philippines celebrates equality by reaching out to a diverse set of audience, and strives to provide content that caters to the LGBTQ+ community. "As a company, we are an inclusive one that respects and values the LGBTQ+ community and what they can offer by granting them the opportunities to create content. We also welcome everyone as a part of the company by hiring people regardless of their gender, sexual preference, and beliefs," Marzan says.
Additionally, TrueID doesn't box content as LGBTQ+, making their content library all-inclusive. "In True Digital, we actually have members of the LGBTQ+ community as part of our acquisition officers, our content producers, and they actually make sure that there is a balanced view in terms of what [content] we're acquiring," says Marzan.
He adds, "You don't have to be queer to like queer content. We are veering away from labels to stories that are for human beings, about being in love, about normal conflicts and problems. Good content that can be consumed by anyone."
TrueID Philippines introduces its first wave of original content
TrueID is a digital lifestyle platform that offers free curated content. They have released licensed video content from its media partners such as GMA, CignalTV, Mediacorp, Zoomin among others, as well as news and entertainment articles from top reputable sources in the Philippines, including Philstar, BusinessWorld, Interaksyon, LionhearTV, and many more.
Recently, TrueID Philippines released original series from local production houses like Keep Filming, Digital Dreams, Republiq Group of Companies (RGC), Luminus Productions, and some independent Filipino content creators. TrueID is expected to bring in more original content by early next year, also expanding its content categories to include sports, gaming, and even scripted shows to cater to a diverse set of audience. Some content to watch out for are series from Tier One Entertainment, 28 Squared Studios, PaperbugTV, and The Fat Kid Inside.
What is TrueID Click?
TrueID Click (formerly TrueID Creators) is an online community of Filipino content creators who are passionate about learning and creating quality content that is real, relevant, and relatable. The group aims to share and exchange knowledge with creators of different levels through discussions, learning resources, and events.
Of course, TrueID Philippines is continuously expanding its original content. Creators may send their pitches to trueidclick.ph@truedigital.com or join the TrueID Click Facebook group at https://www.facebook.com/groups/trueidclick.
If you're a creator, viewer, or both, TrueID is the place for you. Visit www.trueid.ph for more details. Follow TrueID Philippines on Facebook, Twitter, and Instagram at @TrueIDPH.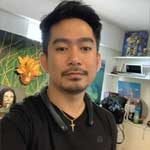 Josh Austria
Aside from being a businessman, Josh Austria has been working in PR and media industry for more more than a decade. From his years of experience as the Marketing and Advertising Head of Village Pipol Magazine, he has built strong relationships with creative people, brands, and organizations.