This free webinar features the brightest minds in tech industry
Technology plays a major role in business operations across different industries, especially amid the ongoing COVID-19 pandemic. Digital transformation has paved the way for companies to shift most of its workforce to work from home set-up, and it continues to redefine the way we work and conduct business. That is why it is essential for companies to be informed of the latest trends in technology and consumer electronics. A great avenue for this is the conference segment of WOCEE WIRED called Tech Talk. Tech Talk is a free webinar happening this November 18 to 22 that will feature some of the country's bright minds and innovators in the tech and consumer electronics industry.
Tech Talk
Through this webinar, viewers will learn the latest innovations in technology in order to optimize their business operations. Leaders from the tech and consumer electronics industry such as Paul Vincent Betia Sales Head of PayMaya QR Ecosystems, Carlo Valencia, founder of Startup PH Training, Art Samaniego, tech editor of Manila Bulletin and Petrus Carbonell, Head of Business Development of e-commerce giant Lazada, will impart their knowledge on the newest developments all businesses must know to be ahead of the curve, and achieve their business goals. 
Among the exciting topics to be delved into throughout the four-day event include design thinking and mobile app development, the Internet of Things (IoT) and smart spaces, technology solutions in the new normal, e-commerce, and business opportunities in games and E-sports.
Organized by Worldbex Services International, the nation's leading events and expositions organizer, WOCEE WIRED is the first digital edition of WOCEE, the country's premier trade show that showcases companies' cutting-edge technology products and services in consumer electronics, digital technology, systems solutions, ICT, and wireless technology.
In fact, WOCEE WIRED is sponsored by PayMaya and Camel Appliances Manufacturing Corporation. 
For more information, call (02) 8656-92-39 or e-mail inquire@worldbexevents.com. Interested viewers can register now at www.wocee.ph, and follow @wocee.ph on Facebook and Instagram.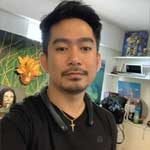 Josh Austria
Aside from being a businessman, Josh Austria has been working in PR and media industry for more more than a decade. From his years of experience as the Marketing and Advertising Head of Village Pipol Magazine, he has built strong relationships with creative people, brands, and organizations.