Tea ni Juan has opened its 17th branch in Tacurong Sultan Kudarat Mindanao on March 28, 2021! The cafe remains the milk tea franchise business of KNJ Food Franchise and Kadiwa ni Juan Convenience Store.
Tea Ni Juan Tacurong becomes a blockbuster in Sultan Kudarat
Tea ni Juan opened its first branch in Mindanao, seventeenth in the whole country. Highly-anticipted, people arrived and tasted the brand dubbed as the Pambansang Milk Tea. First-day sales skyrocketed as almost three-hundred cups of milk tea. Of course, to the delight of our kababayan in Sultan Kudarat. Owners Mr. and Ms. Espra and Micheal Palmas Vic Torres remained all smiles from all the support they received from their community. Customers started to flock from 10:00 in the morning and even extended their 7:00 closing time that evening.
Tea Ni Juan opens it seventeenth store nationwide!
Richie de Quina, founder of Kadiwa ni Juan and KNJ Food Franchise confirmed that their products have special formulation. Of course, this provides the real and superior milk tea goodness. A by-product of the KNJ convenience store franchise, the milk tea brand has evolved into a label that now stands on its own feet. You can also see this as they open seventeen stores nationwide.
As a local brand, they had the best-imported ingredients and an affordable price. Combining these two elements, it surely captured Filipinos all around the country. A product made by Filipinos for the Filipinos!
For inquiries email us kadiwanijuan@gmail.com or knjfoodfranchise@gmail.com or call us at (0977)-841-6456 or (0999) 0999227-7141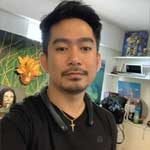 Josh Austria
Aside from being a businessman, Josh Austria has been working in PR and media industry for more more than a decade. From his years of experience as the Marketing and Advertising Head of Village Pipol Magazine, he has built strong relationships with creative people, brands, and organizations.