Rom-com '1st Ko Si 3rd' is coming to Netflix this October
Firestarters' maiden film 1ST KO SI 3RD written and directed by Real Florido, starring Nova Villa, Freddie Webb, Dante Rivero, Ken Chan, RJ Agustin, and Coleen Perez will stream on Netflix starting October 15, 2020. The romantic drama is about a 65-year old woman who is looking forward to settling into a long retirement with her husband. But she quickly grows restless, and when an old flame suddenly turns up, she comes to reassess her past. The film will use its international title – "Third Is My First" on Netflix.
Unlike the usual romantic comedies, Third Is My First has a lot more to offer with its different take on love and romance. It is a Rom-Com that not just won the hearts of the audience but also took home accolades and nods from international film festivals such as the Hawaii International Film Festival, London Film Festival, Canada International Film Festival, and Jersey City TV & Film Festival. Nova Villa got her first-ever Gawad Urian nomination from this film and Dante Rivero won Best Actor in Cinemalaya. 
Ken Chan, one of today's hottest and brightest Primetime TV actors shines in this film as Third, the young and charming Reserved Military Officer whom Cory (Nova Villa's character) fell in love ages ago. Singer RJ Agustin, known for his single "Sana Hindi Na Lang Kita Minahal", portrays the role of Cory's grandson who taught her how to use social media to reconnect with friends, even with an old flame. Also starring in the movie are Lara Morena, Coleen Perez, and Denise Barbacena.
Third Is My First (1st Ko Si 3rd) starts streaming on Netflix Philippines on October 15, 2020. While waiting, you can watch the trailer here: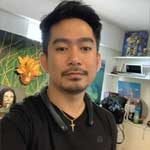 Josh Austria
Aside from being a businessman, Josh Austria has been working in PR and media industry for more more than a decade. From his years of experience as the Marketing and Advertising Head of Village Pipol Magazine, he has built strong relationships with creative people, brands, and organizations.